News & Announcements
Annual Parish Meeting
Tuesday 25th May 2021
The annual meeting of Sonning Parish Council will be held this coming Tuesday following the earlier annual Parish meeting, at approximately 8.30pm. Due to the uncertainty about Covid variants it will be held this year via Skype. This meeting is open to the public and you should contact the Clerk with your email and/or Skype name by midday on Monday if you would like an invitation.
The SPC Annual Reports are available to view: here .
---
Sonning Neighbourhood Plan
Spring Questionnaire 2021
We've received responses from over half the homes in the Parish! Currently a total of 354 completed questionnaires.
We'd sincerely like to thank all of you who have taken time to read and complete our rather long but worthwhile survey. And if there are any of our residents who still have to get their form to us then please don't delay - it's not too late but please do it soon.
You can discover more information about the Plan and the results of our survey (once they've been determined) can be found here: Sonning Neighbourhood Plan
---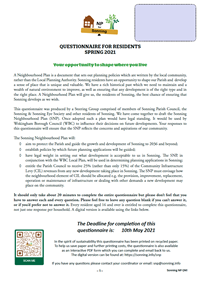 After many months of development we now have a questionnaire that will be delivered to all Sonning residents before the end of April. It's good timing since it coincides with the easing of lockdown and our distribution team will be able to deliver it by hand and, if the opportunity arises, have a chat with people about how important this is to the future of our Parish and why we really need every resident aged 16+ years to complete a questionaire.
---
Community Help
Sonning Support, is the new name for what was the Sonning Covid-19 Community Support Group, originally set up by the Sonning Parish Council in March 2020. They are an independant, informal group of local volunteers who joined together to provide help and support to those people who need it during these unprecedented times. If you need help in collecting a prescription from the chemist, buying food from the shops, walking a dog or other errands then do get in touch - click on the link above to contact them.
Volunteers do not expect payment for their time - the beneficiary is only expected to pay the cost of their shopping, prescriptions or other such expenses that they would cover normally.
If you have any concerns or queries please contact Trefor Fisher via email to trefor.fisher@sonning-pc.gov.uk or 07789 880072.
Covid-19 Useful Links
From WBC & the NHS.... Covid-19 - Advice for Residents
from the Government.... Covid-19 - Overall Situation
Road Safety Report - June 2020
Councillor Trefor Fisher has published the latest report from the Highways Working Group. It can be read here: Road Safety Report
A Neighbourhood Plan for Sonning
Sonning Parish Council together with the Sonning & Sonning Eye Society would like to thank everyone who came to this important meeting in February. Pearson Hall was packed and we apologise to those of you who had to stand.
Information about the Neighbourhood Development Plan and the presentation that was given is available on Sonning.info. You can sign up to be kept informed about how the Plan is progressing and, hopefully, join the team.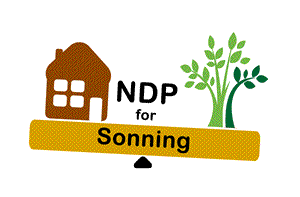 ---
We Want To Keep You Informed
We would like to keep you better informed about what is happening in our parish. We'd like to be able to email you when something important occurs.
Please sign up to our mailing list. We promise that your mailbox will not be overloaded - you will not receive more than one email a month from us and you can opt out at any time.
Archives of previous front page news can be found on the News Archive page