Sonning Village - River Thames & Lock
Sonning lock is accessible via a short and scenic walk upstream from Sonning Bridge, or alternatively via a footpath leading from St Andrews Church to the river. This little stretch of the Thames running from Sonning to Reading, is part of the bigger Thames Path, a National Trail footpath running for 180miles along the banks of the river Thames.
It is believed that there was originally a form of weir here in Sonning — probably a flash lock — as early as the 1500's, recorded as belonging to the Blunte family. The first pound lock was built here, in fir wood, by the 'Thames Navigation Commission' in 1773 and has been re-built three times since then. The most recent work was in 2004-5 when the pre-1970s wooden gates were replaced with new steel gates. There is an associated weir a little further upstream at the top of the island where Sonning Backwater separates from the main course of the river.
The lock-keeper from 1845 to 1878 was James Sadler, a poet and beekeeper. He wrote verses about the river and about bees, and is credited with the invention of the Berkshire hive.
Is there a spot more lovely than the rest,
By art improved, by nature truly blest?
A noble river at its base running,
It is a little village known as Sonning.
— James Sadler (1845—1885), Sonning lock keeper
Visitors to Sonning are advised not to miss out on a stroll down along the river to visit the picturesque lock with its associated cottage and informal tea garden. Here, between the months of April to October they can sit outside and enjoy hot and cold drinks, cream teas, homemade cakes, snacks and ice creams.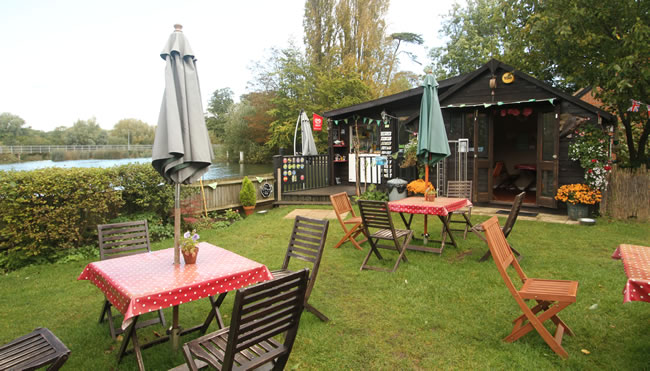 Our current resident lock keeper, Keith, regularly provides the parish council with up to the minute river level readings, courtesy of The Environment Agency. These readings indicate whether there is a likelihood of flooding along the Thames footpath leading from Sonning to Reading.
River Level Alerts
For details of any current warnings regarding footpath flooding please click here…River Level Alerts