Sonning Village Events - Sonning Regatta
The Sonning Regatta is held bi-annually on the bank of the Thames opposite Blue Coat School boat house. The last regatta event was on Saturday 24th May and started late morning with the final race about six o'clock.
It is an informal and family oriented event designed to be a lot of fun for the village and get the children enthused with rowing activities on the river which they can hopefully develop into a life time love of rowing and sailing. It is also an opportunity for the adults to get involved and rope together a team to give dongaling a go with a prize for the best dressed team. Be warned it can get competitive and is harder work than you think!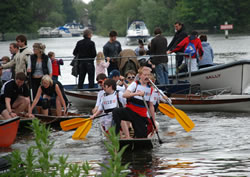 There are also things for the younger children to do between races such as climbing walls and bucking broncos; the scouts run a tea tent and there is a beer and wine tent for those adults developing a thirst from all the effort.
The village of Liguge, Sonning's twin town, is always represented at the regatta by a strong team and hold a twin event the following weekend for those of you who fancy a break in France.
The site can be accessed by car from Sonning Eye or by a ferry from the Blue Coat wharf and everyone is encouraged to bring gazebos and picnics and an umbrella if the weather is not so kind to us.
Race tickets for the next regatta will be on sale in March/April of 2016 for the team and individual events so please get involved and come and enjoy a day beside the river racing and mixing with the rest of the village.
For further details please visit the 'Sonning Festival' website.